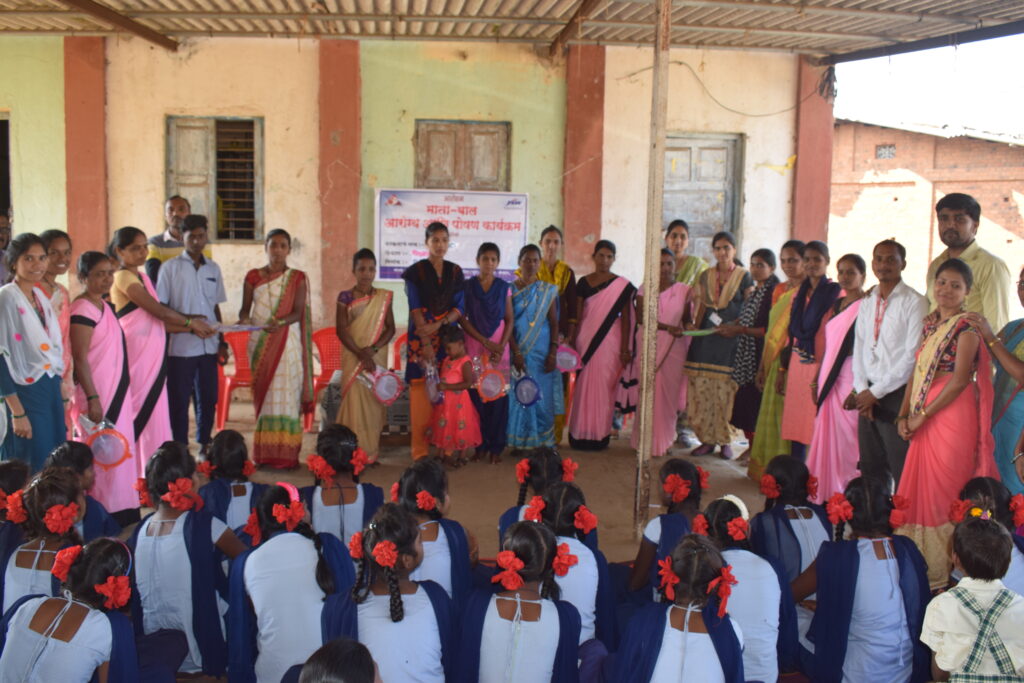 In the month of November, AROEHAN launched a new initiative called Mata Melava in the hamlets of Mokhada and Jawhar. This event intends to give a refreshing break to the mothers outside their homes and taking care of their daily chores. Here we also take the opportunity to honour mothers and pregnant women following our guidance and counselling about taking care of themselves and their children. The event took place in Pimpalshet, Nandgaon, Aaina, and Sarsun Gram Panchayats in Jawhar. The mothers whose children are in good health and gaining appropriate weight were awarded. They set an example for other mothers about nourishment and motivated them to take care of children, thus avoiding malnutrition among children. The pregnant women were also awarded for registering themselves at the Primary Health Centres (PHCs), going for sonography check-ups, and taking necessary measures for their health. These women were felicitated with gifts like tiffin boxes, cooking utensils, and lunch kits containing groundnuts, sugar, broken pulses, etc.

AROEHAN aims to improve the attitude of people around mother and child healthcare. There is a lack of scientific temperament among a large population of India regarding the upbringing of infants. It leads to several superstitious practices still being followed in these households. Hence, we make sure that mothers and caretakers are educated well during our health-related interventions including counselling, during community-based events, and individual care through home visits.
In the same spirit, we conducted a trivia segment as well during the Mata Melava. The participants were asked questions regarding vaccines for children, PHC registration, checking Haemoglobin levels, etc. This was not only to test their knowledge but also to remind everyone about the different nourishment requirements. Participants who answered the given questions correctly were given prizes. At the end of the event, we played games of musical chairs and spoon with lemon race with all the mothers. It was a refreshing day for all the women and they had a good time. The total participation in all four Gram Panchayats was 264 and 156 awards and prizes were distributed on the occasion.