Farmer's Day Celebration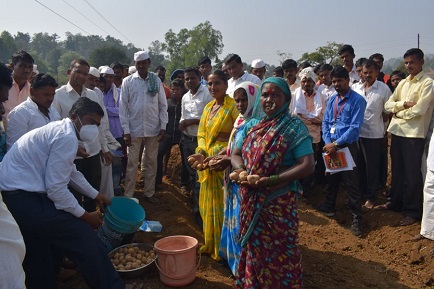 AROEHAN organized and conducted the training program for farmers and self-help groups on the occasion of National Farmer's day. Every year this day i.e. 24th December is marked to celebrate the birth anniversary of Chaudhary Charan Singh, India's fifth prime minister. The training session was focused on jasmine cultivation and potato cultivation. Where the farmers were provided with the demonstration of potato sowing techniques. AROEHAN has developed a progressive relationship with farmers over the period of time. India is primarily an agricultural-based economy and is the largest source of livelihood. The organizational aim was to spread awareness on the role and the contribution of farmers to the country's economy and how they are indirectly related to the lives of fellow citizens.
The program started with Mr. Amit Narkar's inspirational introduction about Farmer's Day and the significance of agrarian fraternity in the country's overall development. The guidance on jasmine cultivation and potato cultivation was provided by Mr. Bharat Kushare, KVK Kosbad.
The participation and response of the farmers were enormous. Their queries and excitement about jasmine cultivation and potato cultivation were spontaneous and showed their interest in the progress in farming and agribusiness.
A total of 125 farmer men and women participated